A reliable heating method that doesn't take up any floor space. That's Black Gold at your feet.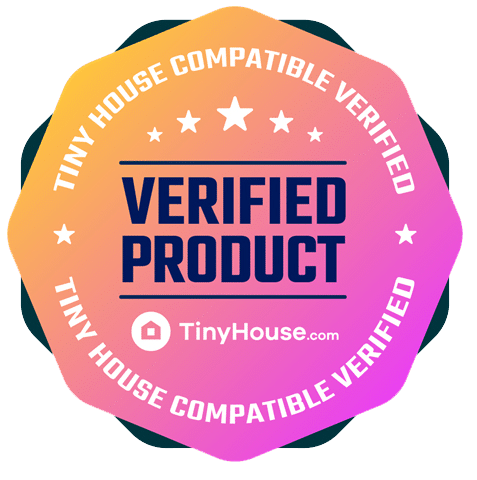 Condensation Buster: Floor heat reduces condensation, that causes mold issues, throughout and underneath a tiny house.
Electric radiant floor heat has multiple uses and benefits: Install throughout your tiny house, small home, or even just the bathroom.
Significantly reduced condensation: Floor heat reduces condensation throughout and underneath a tiny house. Condensation causes mold.
Zero circulation of allergens: Electric radiant floor heat has no motors or fans to blow around environmental impurities.
Hair, skin and sinus loving: Electric radiant floor heat is the happy medium to stabilize humidity-levels in your tiny or small house.
Takes up zero floor space: Electric radiant heat saves 100% of living space compared to traditional bulky heating units.
Sits under your flooring material: laminate, tile, luxury vinyl, concrete and stone.
Perfectly fits the floor plan: Gold Heat custom designs and manufactures its electric radiant floor heat mats to match your tiny house floor plan.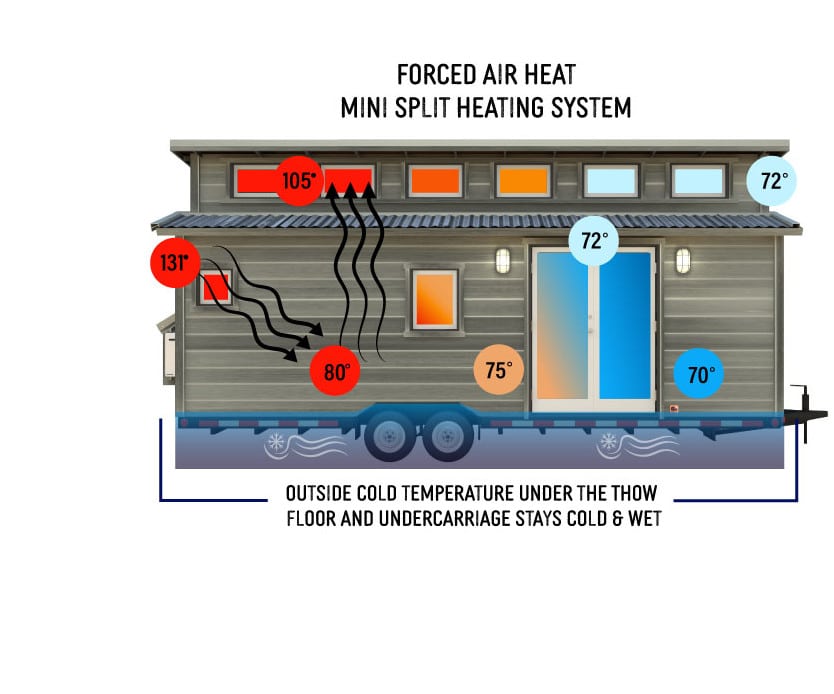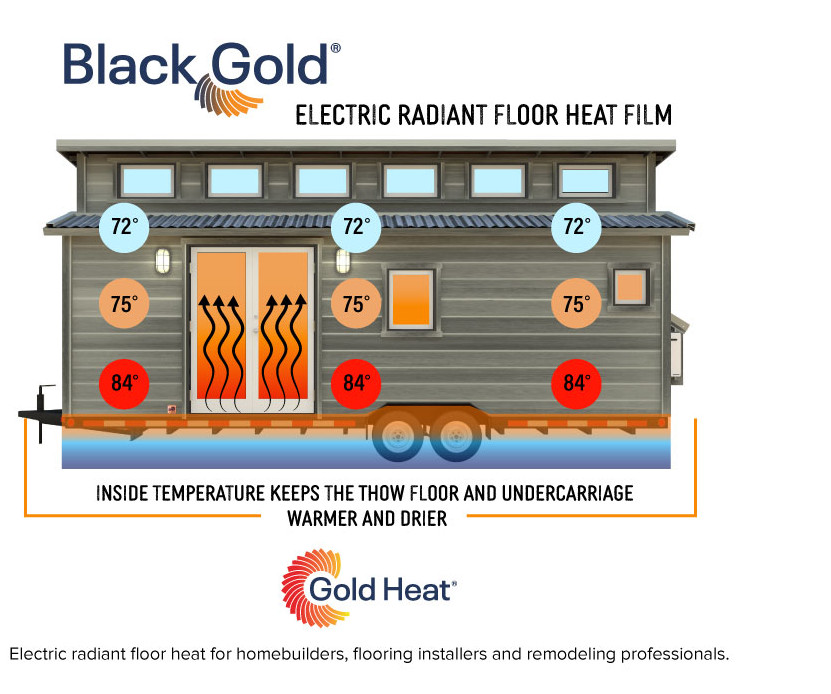 SAY GOODBYE TO A CHILLY TOILET
Imagine…
a warmer toilet in the morning!
Unlike heated air emitting from a tiny house mini-split radiant floor heat keeps your entire home evenly-heated. What's more, radiant floor heat uses a lot less energy than you may think!
Radiant floor heat retains the warmth — Turning on your Gold Heat electric radiant heat will "charge" the flooring material and the sub floor over night.
Doesn't "hotbox" the loft — A tiny house loft can get unbearably hot with a forced heat system.
The sound of silence — electric radiant floor heat makes no noise.
Eases stiffness — Those who suffer from arthritis, joint, knee, ankle, or foot pain will delight in the comfort of the radiant floor heat constantly clinging to their lower extremities—the heat follows your movement.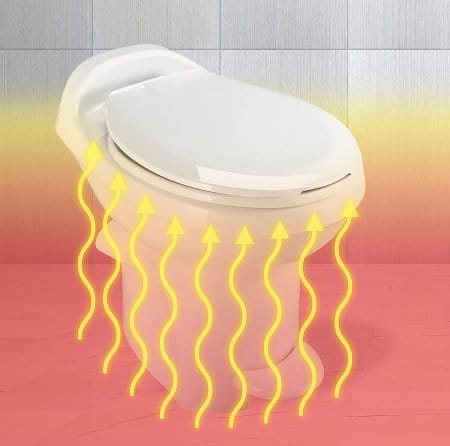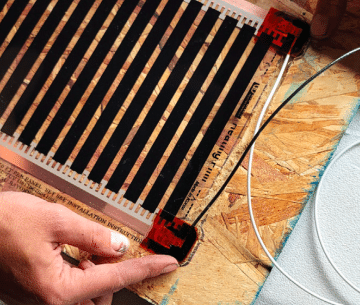 Black Gold® radiant heat film with terminations.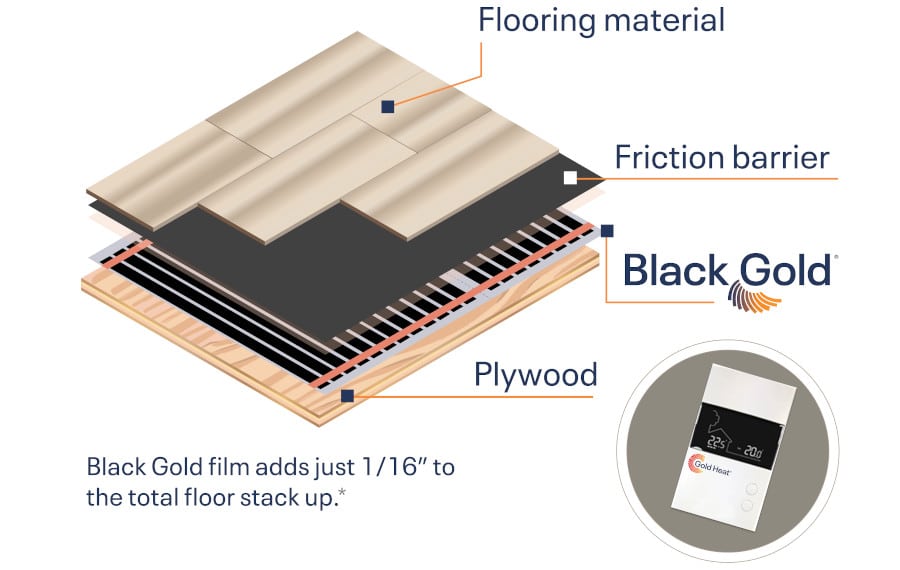 Sample Black Gold radiant heat film flooring stack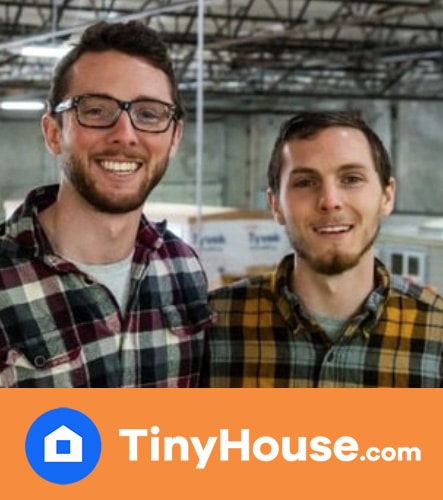 Jason & Zach Franchis
Tiny House Gurus, tinyhouse.com
"Gold Heat's radiant floor heat product is efficient and more effective than a tiny house mini-split or residential home HVAC system.
It's extremely easy to install, clean, and evenly heats throughout your tiny house. It needs zero maintenance!"

it sits under your flooring material – laminate, tile, wood, concrete, and stone (EVEN LVT AND LVP FLOORING!).
Unlike forced-air systems, you won't hear vents turning on and off all day, and no more clinging radiators either — just a silent, warm home.
People with allergies often prefer radiant heat because it doesn't distribute allergens like a forced-air system.
Reduces condensation throughout the tiny house.
Have a loft that gets unbearably hot with your current heating system? Radiant floor heat stays downstairs, allowing you to sleep comfortably up in the loft.
A Gold heat electric radiant floor heat mat can be any size. Radiant heat one room (like the bathroom or sunroom) or heat the entire floor of a tiny house.
A Multi-use Heating System
How many other appliances in your tiny house have multiple purposes?
Radiant floor heat, installed throughout the home, will reduce window and toilet condensation and mold growth by keeping the flooring material, subfloor and underneath the structure dry.
Gold Heat is a proud member of the Tiny Home Industry Association. We are helping create standards within the tiny house community.



Gold Heat CEO Brian Bishop speaks with the tinyhouse.com team

Director of Sales Bill McConahy discusses the science of radiant floor heat
Gold Heat knows how to warm tiny living spaces.
Ask our luxury motorcoach customers.