underlayment,
underfloor heating,
gold heat,
how to insulate a concrete subfloor basement,
floor heat installation,
is floor heat efficient,
bathroom remodel,
remodelers,
GoBoard,
basement floor,
radiant floor heat for showers,
home remodeling,
can i install radiant floor heat in a shower
What tile backer products work with electric radiant floor heat?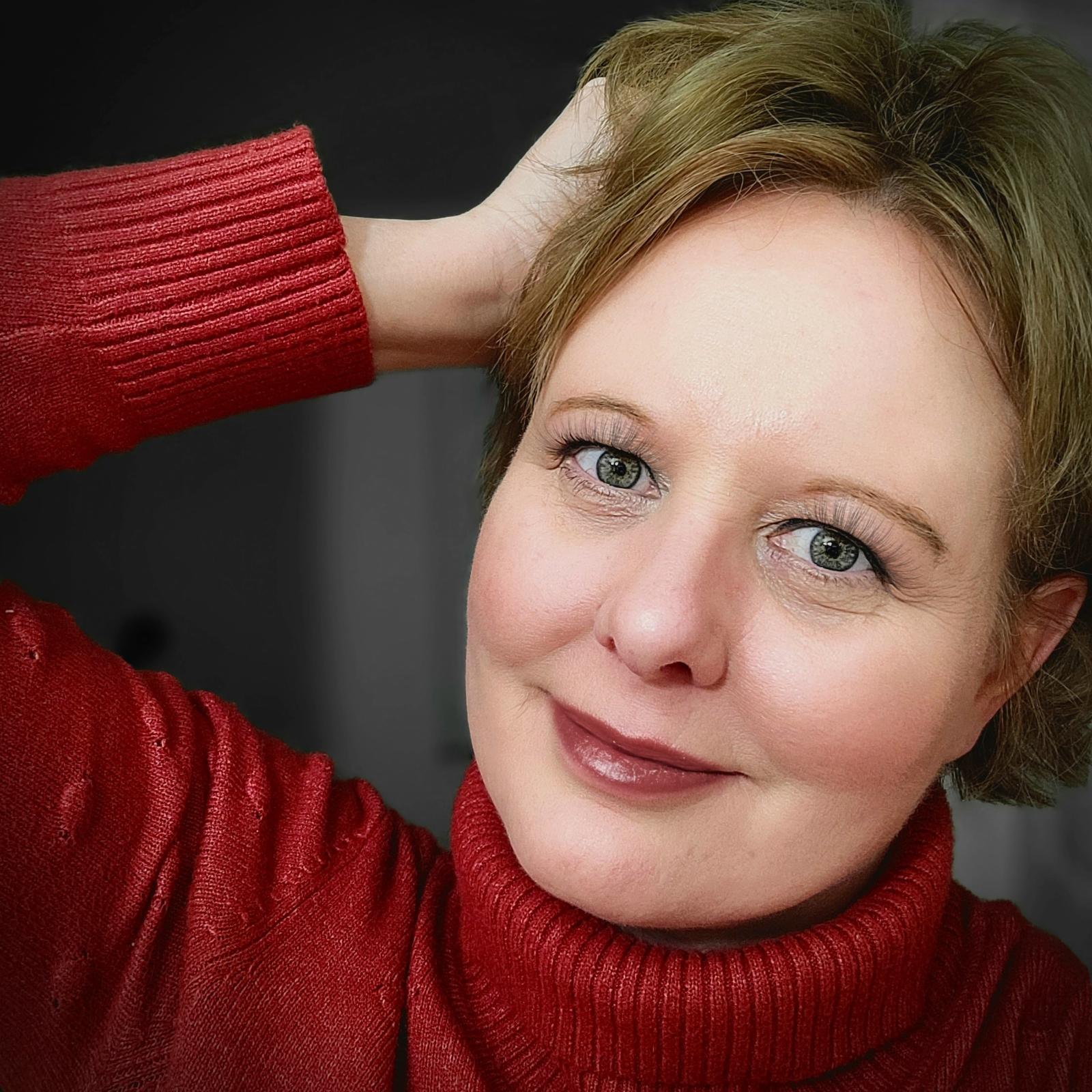 Joey Leffel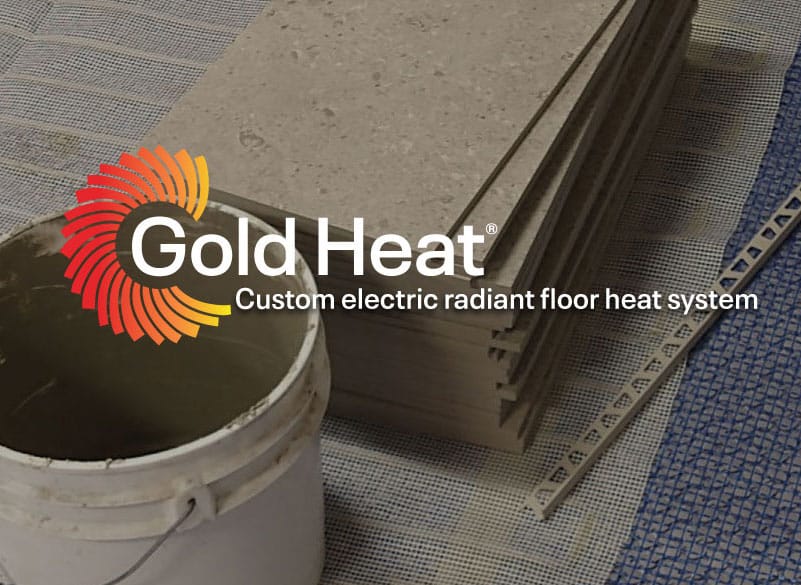 The layers between the subfloor and the floorcovering have grown increasingly technical in recent years, and they play an outsized role in the success of flooring installations. The field is competitive, and suppliers to this segment are constantly innovating, making greener, cleaner, and faster products.
Trend: From soft surfaces to hard surfaces
There's no shortage of issues that these materials need to address moisture mitigation, acoustical abatement, crack isolation, mold prevention, comfort underfoot, and, of course, adhesion.

Providers of underlayment and floor prep materials have likewise gone through significant transformations in recent years. Most suppliers, which initially offered a narrow and specialized range of products, have created even more specialized products or expanded their range significantly.

At the same time, the market has changed. Carpet used to dominate both residential and commercial markets. The hard surface has been trending for decades, and the ascent of rigid LVT products over the last five years has pushed that trend even further.
The shift from soft surface to hard surface has created louder spaces, with sound bouncing off the floor and ricocheting around the interior, driving specifiers to mitigate the acoustics through wall and ceiling treatments or by designing quiet zones with rugs and the like to offset the cacophony in the rest of the space.

These hard floors also increase the transmission of sound between floors generated by impacts on the floor from foot traffic and moving or rolling objects that transfer down through the ceiling to the floor below.
Hard flooring is a huge issue in the corporate and hospitality sectors in the commercial market, where people occupy multiple levels and ceilings are lower. It's not much of a problem in single-family houses since the upper levels have carpets. Still, it's a big problem in the multifamily market, where hard surface flooring rapidly displaces carpet and tenants in apartment buildings stacked on top of each other.

In this area-transmission of sound between floors-where suppliers of underlayment and floor prep materials can make a difference. Acoustical underlayment is in huge demand these days, and most flooring material suppliers offer a range. Some are unattached rolls or pads, while others are poured or pumped onto the subfloor.

The other dominant issue in the subfloor market is the issue of concrete and moisture. Tighter timelines have been putting pressure on the construction industry for several years, and too often, it's concrete curing that is forced to yield.
The moisture and salts that wick off the concrete can easily undermine adhesives and wreck flooring installations. The industry has developed a range of solutions, from moisture barriers and sealants to shortened timelines for other job elements, like rapid-drying underlayment and adhesives and faster flooring installation systems.
Considering adding electric radiant floor heat to your tile project?
These tile backer and underlayment products work incredibly well with Gold Heat's electric floor heat mats.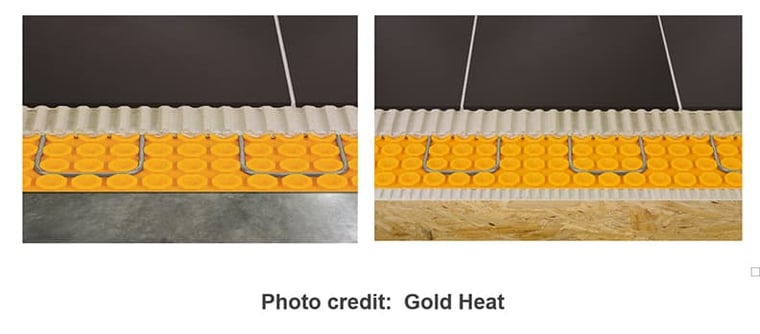 The Dimple Mat
Yes. You can use a dimple mat under Gold Heat electric radiant floor heat. If you are looking for a way to minimize height buildup and eliminate a significant level difference at thresholds, a dimple mat product is the perfect insulation for an electric radiant floor heat solution.

"The idea behind a vapor barrier is to stop vapor from penetrating the slab. A vapor barrier is often specified if the concrete slab is going to receive a radiant floor heat system. It's also useful to stop mold buildup or improve indoor air quality."

Dario Lamberti, Technical Manager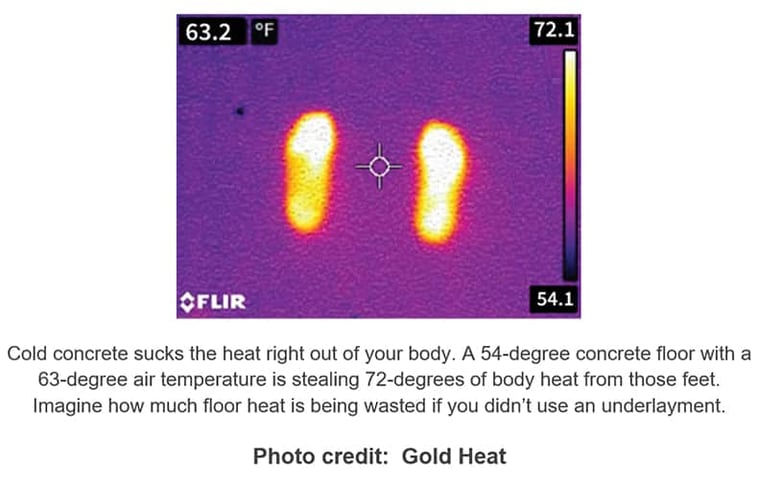 A dimple mat is a 1/8-inch-thick polyethylene membrane with a layer of anchoring fleece on the underside and a grid of square cavities on top. Superior for insulation – especially on top of concrete!
Installation is simple. Simply trowel a layer of thin-set adhesive on the floor, embed the mat in it, and fill the cavities with thin-set. A dimple mat, like a Dietra mat from Schluter, becomes the waterproof tile backer that functions as an uncoupling membrane for the radiant floor heat mat.
Recommendation:

Gold Heat highly recommends using a dimple mat if you plan to install a radiant floor heat mat over a concrete subfloor. The mat will provide much-needed insulation to prevent radiant floor heat loss to the concrete subfloor and mold issues.
Self-Leveling Compound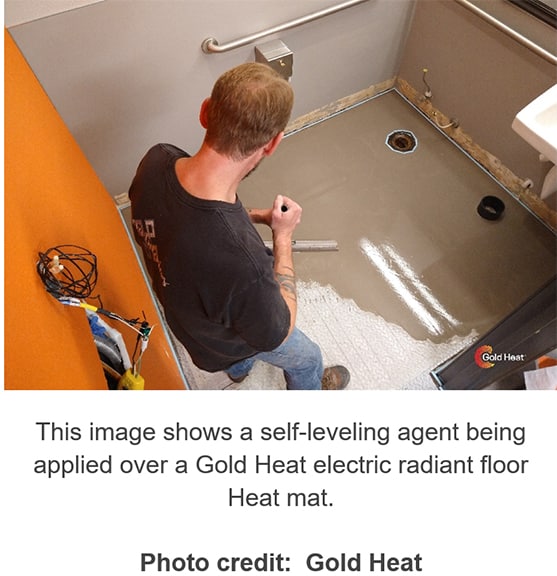 Yes! You can spread the self-leveling compound over a Gold Heat custom floor heat mat. A self-leveling compound has many of the same advantages as a dry-pack mortar but doesn't require as much skill to install. However, laying out a self-leveling compound does take skillful and patient prep work (like sealing every hole in the floor).
You still use metal lath, then mix bags of powder, then pour the mix onto the floor from Homer's bucket. The self-leveling process, before you tile, is hard to mess up if you apply it correctly.
Don't forget that many self-leveling products get hard, fast. You're going to have to master the balancing act of mixing, pouring, and spreading the compound.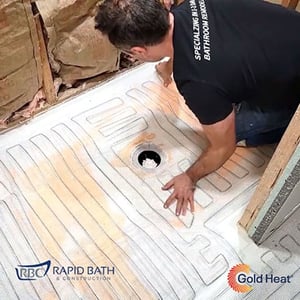 Watch Rapid Bath's 2-minute bathroom remodel video using GoBoard under the Gold Heat mat?
Photo credit: Gold Heat
GoBoard

®

Tile Backer Board
Yes! You can use GoBoard underneath Gold Heat's electric radiant floor heat. The good news is that GoBoard is already waterproof (only the board joints and fastener locations need to be sealed).
GoBoard is an ultra-lightweight, waterproof, durable tile backer board that is easy to cut and install. While you can install Gold Heat's floor heat mat atop traditional cement boards, why deal with the extra weight? GoBoard is 85% lighter than traditional cement boards.
Plus, GoBoard is engineered and tested for strength and durability. Additionally, this product can be cut with a utility knife or hammered to create a pocket channel for the floor heat cold lead. Cutting or hammering GoBoard does not lessen the integrity of the product.
Recommendation:
Gold Heat highly recommends using Go Board for bathroom remodels installing electric radiant floor heat. A flWe like it because:
The product is available in 6 thicknesses

1/4″ for floors and countertops

1/2″and 5/8″ for walls, showers, ceilings, and floors

1″, 1 1/2″, and2″ for walls, benches, shelves, tub surrounds, vanities, and countertops

The product has a 10-year warranty

GoBoard does not require a vapor barrier for wall applications unless required by local building codes or installed in steam rooms or shower stall applications
Have questions about installing a custom Gold Heat radiant floor heat mat?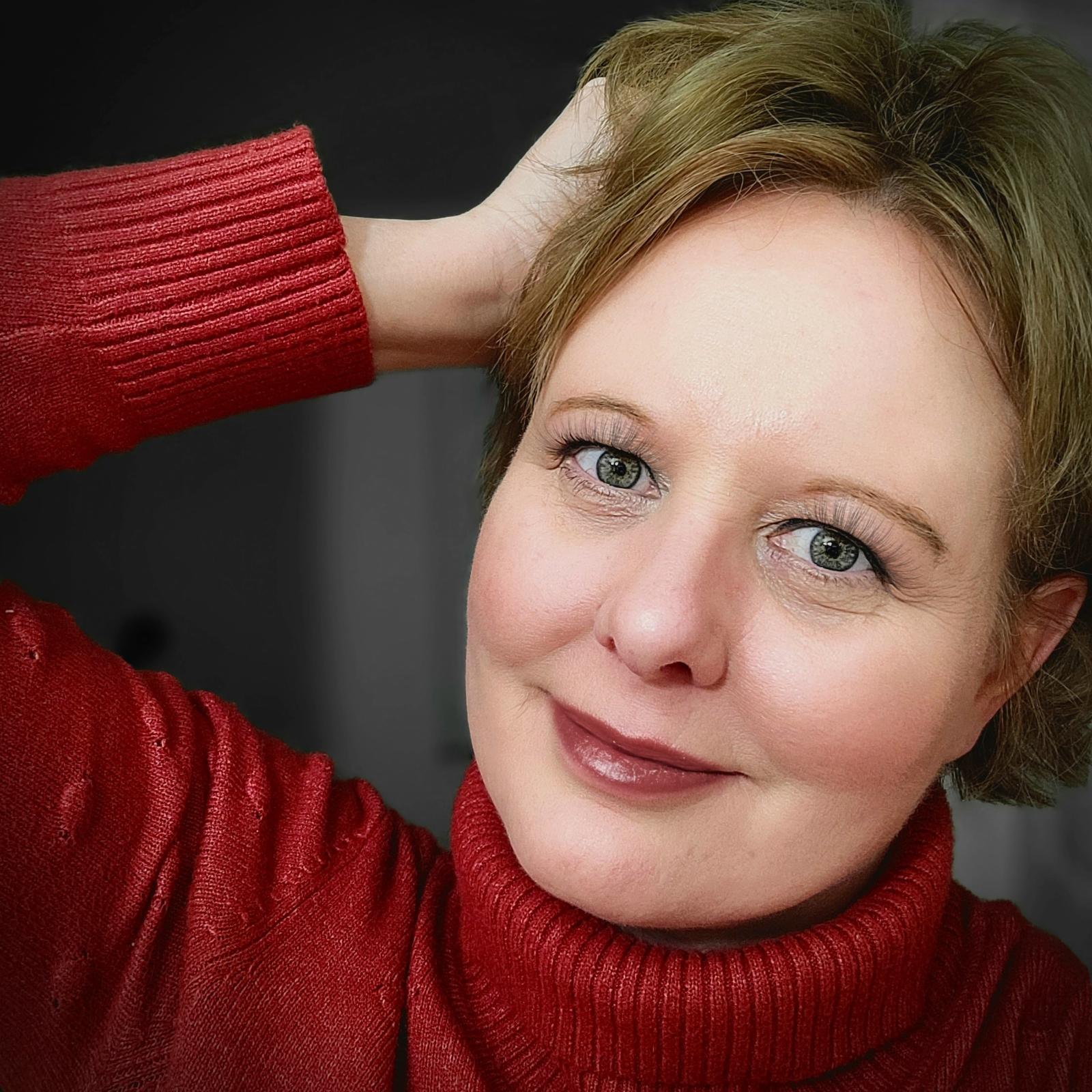 Joey Leffel