FACT: Radiant floor heat is 6x more efficient in heating a home than a typical mini-split heater.
Radiant floor heat isn't just for the rich and famous. With the small amount needed for a tiny house bathroom, it's a financially attainable luxury. Thanks to Gold Heat, electric radiant floor heat is more accessible than ever to tiny house owners and builders.
Tiny houses move (like an RV) so the radiant floor heat method is able to withstand being moved from one place to the other. The electric floor heat method is lightweight and uses the house's electricity source to power the wires weaved beneath the floor.

If you are thinking about how fancy it will feel to offer the comfort of radiant floor heating to your clients – why not try it out and install it in the chilliest room in the tiny house – the bathroom.
Guaranteed, there is nothing that feels better first thing in the morning than stepping on a toasty warm floor with your tender morning feet, your creaking bones, and your swollen joints to do your "business." Floor heating eases you into a new day by taking the "shock factor" out of a cold morning floor.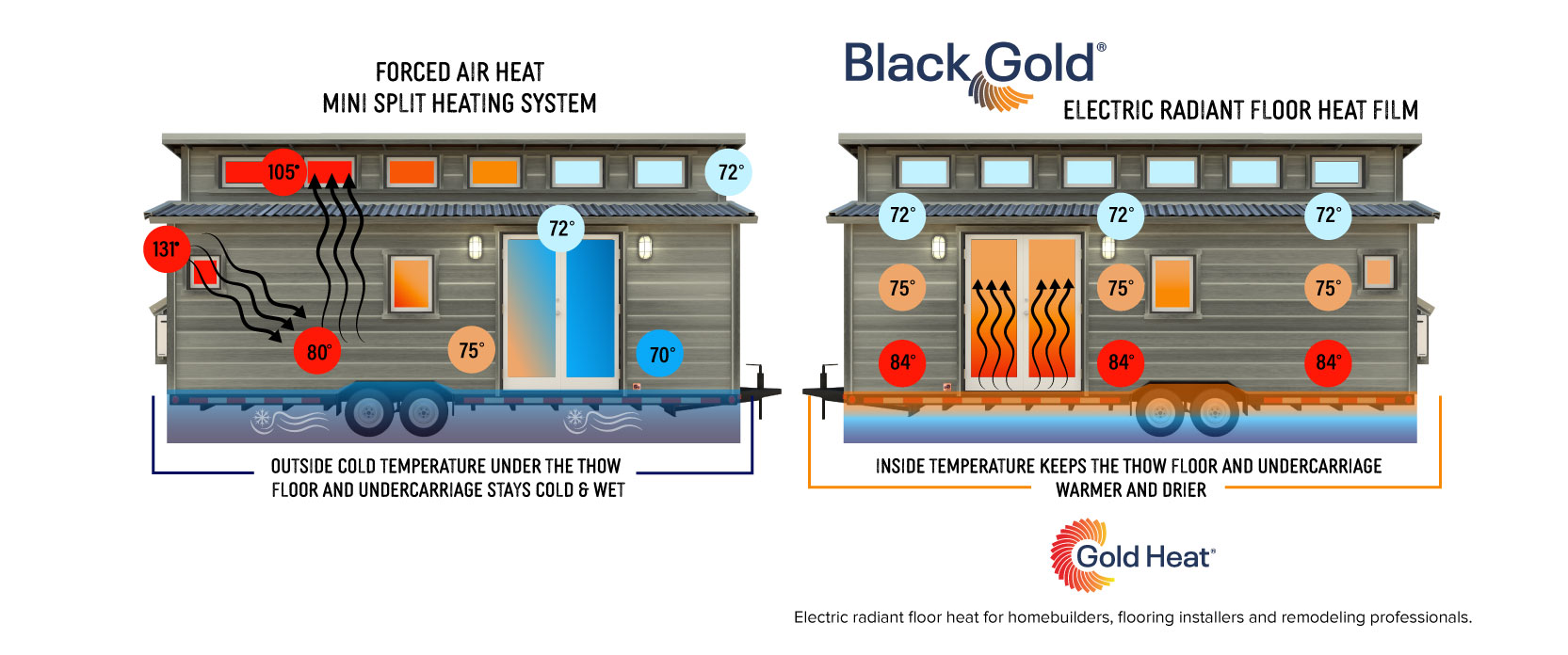 Here are five reasons a tiny house builder should consider radiant floor heat.
1. A cold floor, no matter how warm the room is, is robbing heat from everything warm that is touching it…including you.
Because there is a big difference between HEATING your house AND keeping your house WARM. Electric radiant floor heat operates under any hard or soft surface floor. Just about any flooring material can be used above a radiant floor heat system (like Gold Heat or Black Gold). A perfect candidate for this system is your tiny house bathroom. It's easy and efficient to keep the bathroom floor at a comfortable, consistent temperature.

What's more, it's impossible to keep a floor and room at a consistent temperature with a forced-air system. A forced-air system only heats the blowing air, then dissipates. Radiant heat is attracted to "things," not air. So it heats you from the ground up.

When heating with electric radiant floor systems, the entire surface of the floor is heated. In turn, it heats the ground and attaches itself to any "thing" that's in its path. That includes your feet, ankles, knees, and hands.

What's more, a tiny house owner can set the temperature lower than with a forced-air heater— 6 to 8 degrees lower—and it'll still feel comfortable. The radiant system heats the floor, and in turn, it heats you and everything sitting on the floor (not the air).
2. Electric Radiant Floor Heat is 6x more efficient than a mini-split heating system.
Look, we're not trying to tell you that you don't need the mini split that is built into the tiny home…but we are saying, depending on where you are docked, radiant floor heat may be all you need.
Because radiant heat generates beneath the tiny house flooring, there is no actual heat loss. When you heat a tiny house bathroom with forced air heat, the warmed air loses a significant amount of heat by the time it gets to your tiny bathroom tucked away in the back of the house.

While turned on, the heat hovers on the floor, warming "things," not air. Things like your hands, your ankles, your back, your feet. If you experience any type of joint inflammation, radiant heating will be your new best friend.
Why Radiant Floor Heat is a superior supplemental or standalone heat source!
There is no maintenance because nothing moves
Warms from the bottom up, not your top down
There is no sound.
There is no condenser to freeze up.
It's even-heating, from the front of the coach to the back.
And there is no fan blowing allergens around
Never need to replace a filter
3. Exceptionally lightweight
Compared to the hydronic radiant method and all of its' working parts, electric radiant floor heat is significantly lighter (ounces vs. pounds) if you travel with your tiny house on wheels.
4. Affordable luxury that doesn't cost much to run.

There is this big rumor that if you want radiant floor heat, you have to cover the entire house. That's FALSE.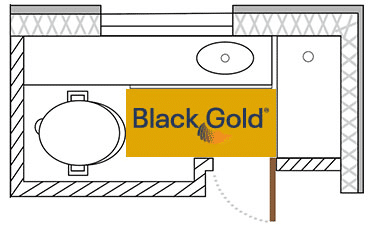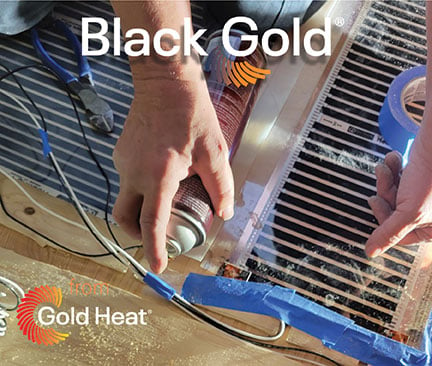 The radiant heat film lays only where you walk. You don't install the film under beds, inside closets, or under the cabinets in a tiny house. That being said, a 200 sf tiny house can enjoy the affordable luxury by only installing maybe 70sf.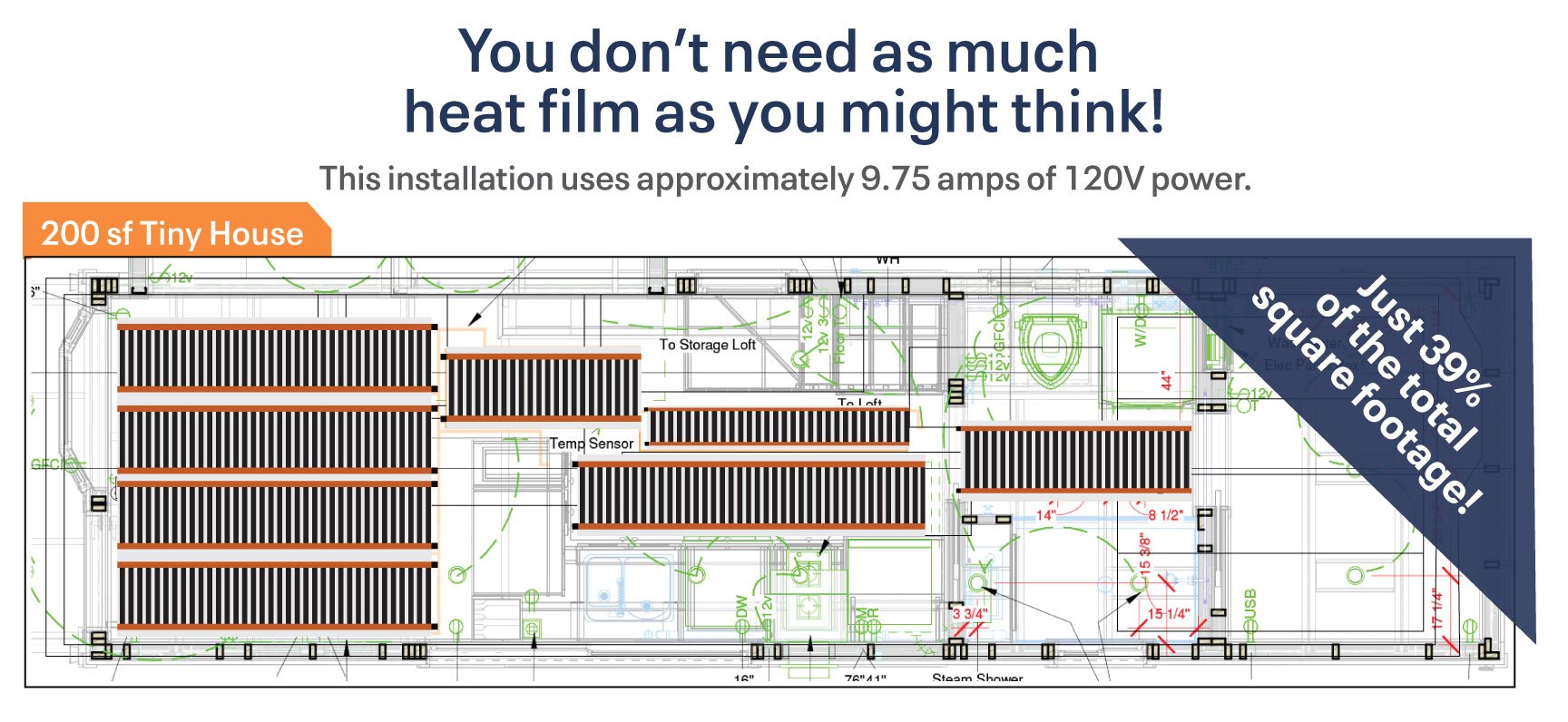 5. You have enough power to run radiant floor heat in a tiny house
Another misnomer about radiant heat is that you won't have enough power to run it. Nonsense! Since you only install where you will actually be walking, which is probably 1/3 of the entire tiny house's square footage, you're not drawing as much power as you think.
In addition, radiant floor heat is 6 times more efficient than running your mini-split. It's true! A radiant floor system charges itself (like a hot rock in the sun) so it doesn't have to run all the time. A mini-split only keeps you warm when it's running.
BONUS Reason!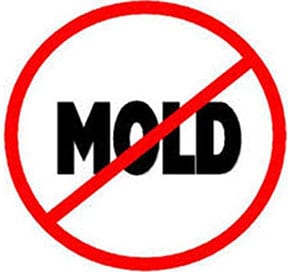 6. Electric radiant floor heat will help keep the undercarriage of a tiny house dry
Are you excited about the possibility of radiant floor heat in your newly-built tiny home? You should be. Not only does it heat the tiny house but it also keeps the underbelly warmer and dryer, which means less condensation! If your tiny house isn't going to sit on a foundation, radiant heat might be the answer to your heating system options.
When you start to think about living the tiny life, consider electric radiant floor heat as an option in your build. Talk to a tiny house builder today. A tiny house homebuilder will be responsible for installing your Gold Heat floor mats. Gold Heat products are durable for the RV and tiny house building industry.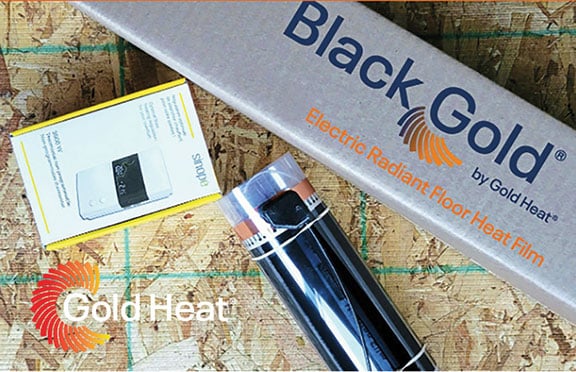 *Gold Heat sells its Black Gold radiant heat film directly to tiny house homebuilders. We do not sell directly to homeowners. Talk to your home builder today about installing this affordable luxury option.
Don't believe us? Call our bluff at (877) 789.4328 or email support@goldheat.com and ask a Gold Heat support team member. They will be happy to give you all the scientific scoop.