Is Radiant Floor Heating Dangerous?
Joey Leffel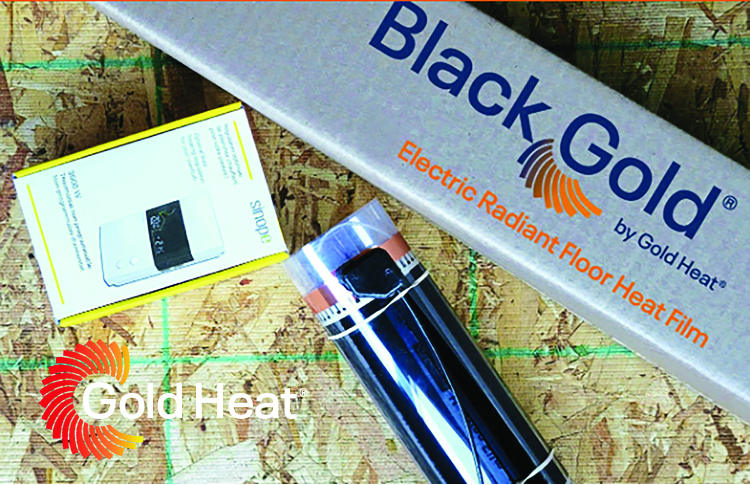 Compared to other types of heating solutions, radiant floor heating is actually ideal for tiny homes that have both energy and space concerns. Compared to traditional forced-air heating, radiant heating for floors costs less, takes up less space, and works better, allowing you to heat your entire home for pennies a day, all with a system that's easy to install, silent, and requires no maintenance.
But some may be worried that the electric heaters on the floor are unsafe for some reason. Quite to the contrary, radiant floor heating in your tiny home is one of the safest ways to heat your home, and it's far safer than woodstoves or propane fires (open flames), forced air (allergens and contaminants), and other heating solutions that are less efficient and more expensive to run on a regular basis.
In fact, one of the most popular places for radiant floor heating is in the bathroom, spaces that typically have lots of water flying around. Sure, it can help avoid those cold toes and other inconveniences during the colder months, but some people see a real danger in an electric heated floor when you can't exactly control the things that get spilled or dropped on top.
Can You Get Shocked From Electric Heated Floors?
While most people understand that water and electricity don't mix, it's true that electric radiant floor heating has been designed and built from the ground up to avoid any problems with safety or water exposure. Taken all together, they're actually safer than other types of heating solutions, and it's basically impossible to get some sort of shock from radiant heating under your floors.
Not only do all products go through rigorous research and development to ensure their safety, but each heater available for sale has been rigorously tested for defects before it can ever be purchased. The wiring itself is protected by sheaths that redirect current away from the floor layer that sits above, and the attachment cables meet the highest safety standards for electrical products.
The Real Dangers of Forced-Air Systems
Believe it or not, a tiny home electric radiant floor heating system is actually safer than conventional forced-air systems that rely on fans and other ducting to disperse warm air throughout a home. Rather than heating the air, a radiant floor heats the actual living space in the room, keeping those inside more comfortable than the drafts, cold spots, and other annoyances that come with traditional forced-air solutions.
Indeed, all that air circulating is hazardous to your health, particularly in a tiny home. As a forced-air system sends heat out into the living spaces, it also carries allergens, particulates, and other dust throughout the air, which can lead to breathing problems for allergy sufferers and poor air quality inside your tiny home. Furthermore, conventional heating can also reduce the humidity in your tiny home, making for a dry and uncomfortable experience whenever you turn up the heat.
On the other hand, radiant floor heating in your tiny home comes with none of the same problems, which means that you can get safe, affordable, and efficient heating for your tiny home that also helps you save on space because you won't have a large heating unit to figure out where to place.
The Advantages of Radiant Floor Heating
Compared to traditional radiant heaters, which need to be heated up to a scalding 150-170 degrees Fahrenheit, radiant floor heating can achieve the same warming power by heating up to a warm and comfortable 80-85 degrees. That means spending less on your energy costs as well as avoiding the localized heat and danger of a radiator somewhere in your tiny home.
And unlike radiators, which heat the air around them first, producing cold spots from more than a few feet away, radiant floor heating is more uniform. Since it covers a significant portion of your floor, a radiant floor heating mat will heat the entire room evenly, allowing the heat to rise as it blankets your entire tiny home in a uniform comfort of warmth that you can only get with radiant floor heating. On average, that can save you around 15 percent on your energy bills compared to other types of heaters.
Radiant floor heating for your tiny home is also a much easier way to manage the climate inside than traditional heaters. Not only does radiant floor heating require virtually no maintenance with long-running warranties that will take care of any defects you may encounter, but they can also be integrated into various thermostats or even your phone for the utmost in modern convenience. That means you can easily turn the heat up during a cold night or shut it off when the heat is no longer needed.
But one of the best benefits of radiant floor heating is that they don't take up any space. That's a big deal for cramped tiny homes that may not be much bigger than the size of a small bedroom, helping you optimize the indoor space without adding more bulk to your living spaces. Without a traditional heater taking up space, you'll be free to organize your space as you see fit -- and you won't have to worry about noise and other annoyances with under-the-floor heating that's largely out of sight and out of mind.
Radiant floor heating mats also work with any type of floor covering -- from tile and stone to carpet, wood, laminate, and vinyl. That means no matter what kind of floors you have in your tiny home, radiant floor heating will work with it. Additionally, underfloor heating is easy to install, particularly if you're installing a new floor or renovating your tiny home, and it's also easy to install as a one-off project due to convenient mats that are easily slipped under existing floors.
Radiant Floor Heating From Gold Heat
Here at Gold Heat, we've been making electric radiant heat systems for the RV industry for almost 20 years. Today, we take all that experience and know-how to create the best radiant floor heating mats for recreational vehicles, tiny homes, bathrooms, or wherever you have a heating need. Easy to install and operate, a radiant floor heating mat is ideal for tiny homes that already have serious space concerns, as well as those that want a better way to heat their living spaces.
Joey Leffel
Joey Leffel brings +20 of hands-on experience in product marketing for several manufacturing players in the construction, diagnostic equipment, high technology, movie and amusement, and sporting goods industries. She owns both a B.S. in Business Management and an M.A. in Management from the University of Redlands School of Business in San Diego, CA. She has a big soft spot for all animals and constantly seeking new road trip adventures while residing in the Pacific Northwest.