What furniture do I need for a tiny house?
A Room-by-Room Guide to the Furniture You Need for Your Tiny Home
…and recommendations for where to find it!
Guest Blogger: The Tiny Life @ thetinylife.com


Tiny House Furniture
If you're considering the tiny life, you may be wondering what tiny house furniture you will need for your new home and where should you buy? Can you use the furniture you already have? Should you rely solely on built-in items?
People choose built-in tiny house furniture because it takes up less space. Tiny houses have unique margins and size constraints, so you're limited with your furniture selection. If you have a tiny house on wheels, you'll also need to ensure your furniture is tied down and secure because you don't want it crashing around when you move.
Tiny House Furnishings by Room
When I built my tiny house, I didn't have a lot of built-in tiny house furniture. I built my clothes closet and some storage areas. Everything else, I had purchased the furnishings. I know it's not that way for everyone.
What type of furniture should you consider for your tiny house?
What can you buy, and what should you build-in?
Room-by-room, here is a list of recommended tiny house furniture.
Tiny House Living Room Furniture
My biggest tiny house furniture goal was to have a really comfortable, nice piece of furniture where I could relax and unwind at the end of the day. I wanted the perfect tiny house sofa. I found a comfortable "sectional" at IKEA and bought only one section (which you can do with almost any brand). Later I upgraded to a small recliner chair. I love it because it's perfect for sitting, relaxing, reading a book, or even taking a nap.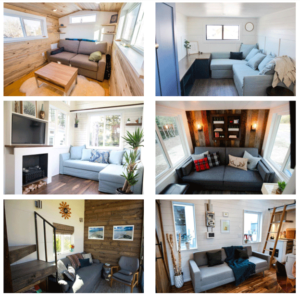 Tiny House Sofa Or Built-In Couch?
The most pressing question when it comes to living room furniture is built-in vs. buying ready-made. As I explained above, I opted for a ready-made option. In the examples below, you can see how choosing a stylish loveseat or a portion of a sectional can look really cohesive in the space and make your tiny house living room feel very homey.
When you choose a tiny house sofa, you may also want to look for one that converts to a bed. As I'll explain when we discuss tiny house bedroom furniture, accommodating guests in a tiny home isn't always the easiest option. A pullout couch (or simply a comfortable sofa) can offer guests an occasional place to stay but might not be an ideal solution for sleeping all the time. Still, if you find a great-looking convertible sofa that fits the space, go for it.
Let's think outside the tiny house sofa for a moment.
Another living room furniture option is to simply go with chairs. I like the recliner for my main living room. It's comfortable, and it doesn't take up much space.

If you only have one or two people living in your tiny house, then a great chair or a set of chairs might be your preferred way to go!
Built-ins or no built-in benches?
So many people do built-in bench seats in their tiny houses. In my opinion, bench seats are rarely comfortable. People put a lot of time and effort into building these seats only to discover that they're impractical compared to a couch or a recliner.
If you are still on the bench bandwagon, there are ways to do built-in benches correctly. Additionally, the big advantage of benches is that you can size the bench to the rest of your house. It will stay in place, no matter where you move your tiny house. The biggest bonus about choosing built-in benches for your home? You can design them with plenty of storage.
Notice that they're wide enough for comfortable seating and feature plenty of pillows and comfortable padding.
I also like the idea of combining a built-in piece with another chair or small sofa, so you get the best of both worlds—a nice reading nook with storage and a comfortable couch or chair to chill in. Below you'll see how a bench seat can work well with other tiny house furniture.
Other Living Room Furniture for Your Tiny House
What else do you need in your living room besides seating?
Depending on your layout, you may want to include a coffee table that can double as a dining space. A lift-top coffee table can double as a kitchen workspace or a place for your laptop. Watch movies from your couch and then tuck it away when you're finished.
I keep a small folding table tucked away for when I need some extra surface space. It's nice because I can use it as a card table, a TV tray, or a workspace.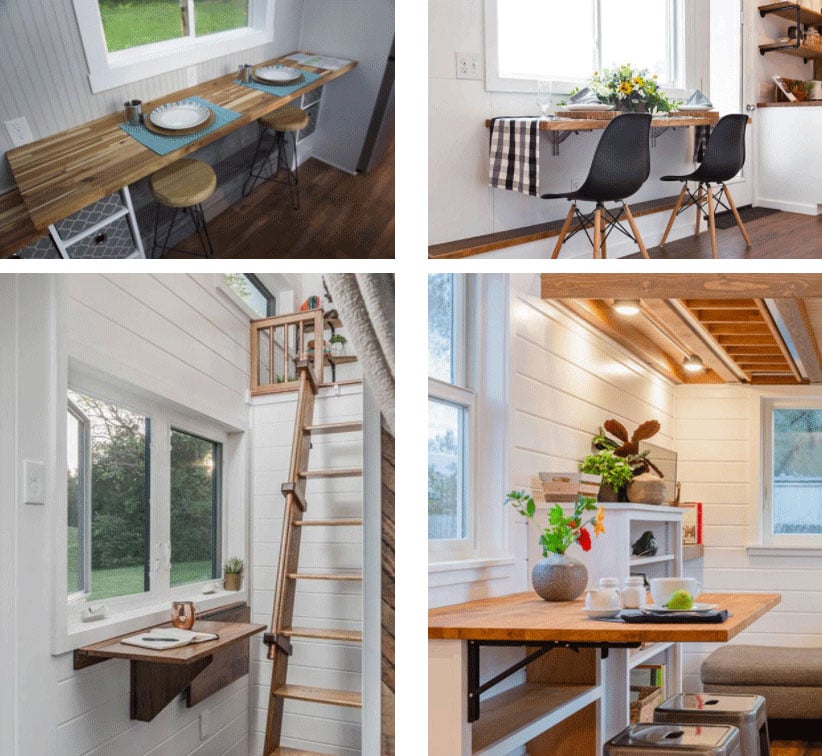 If you want a built-in table for dining, look for something slim and easy to workaround. You still want to access the storage of your bench seat, and you'll want to comfortably sit and relax when you're not using the table. The examples below fit the space without being obtrusive.
Make your living room your own with pillows, wall décor, plants, and anything else you like.
Built-in bookshelves are a nice touch. Rugs and lamps will go a long way to making the space feel cozy and welcoming. Remember that any tiny house furniture you put out will need to be stored or tucked away if you move your home. Being a minimalist, I've adopted a less-is-more mentality, especially when it comes to decorations, but you may like to have more decorations, totally up to you.
Tiny House Multi-Use Furniture
Throughout your tiny house, there are many places where multi-use furniture makes a lot of sense. I'll cover Murphy beds in the Bedroom section later, but let me say that I'm not a huge fan of most multi-use furniture.
People get excited about the idea of multi-purpose pieces, but I've found that many don't work practically. I've found that most fancy multi-use items do a lot of things just okay, nothing really well.
My advice is to look for furniture pieces that do ONE job well. If there is a spot for storage, consider it added value, but make sure the tiny house furniture piece does its primary job first and foremost. Don't get drawn in by the flash and fun of multi-use pieces that over-promise and under-deliver.
The one area where I do find multi-use furniture helpful is for living room storage. Ottomans that double as storage spots are great because they can be used as seating, footrests, and some even come together to create an extra place to sleep. Nested seating like chairs and stools can also be easy to store in a small space.
Tiny House Bedrooms
Tiny house bedrooms are often lofts, but I wanted to talk about both ideas regarding tiny house furniture. If you have a loft sleeping area in your tiny house, it can come with its own set of challenges. Plus, lofts aren't always for sleeping.
No matter what you have—a ground-floor tiny house bedroom or a loft bedroom—the most significant challenge is fitting the mattress comfortably in the space. You'll need to look for a tiny house bed that's the right size for sleeping while still giving you room to move around the area.
Furnishing Your Tiny House Bedroom
The leading tiny house furniture piece in a bedroom is, of course, the bed. Closets are often built-in, and while you may have a small shelf or nightstand, the bed is the central part of the room. You'll need a comfortable mattress. Spring for high quality and consider a custom-sized option like tiny house mattresses from Tochta.
Once you have the mattress and bedding, it's a matter of furnishing your bedroom with the items you need to sleep and relax. Wall-mount nightstands and light fixtures can help save space. Shelving behind a bed can offer a practical and functional headboard.
Getting More Space in Your Tiny House Bedroom
When I was building my house,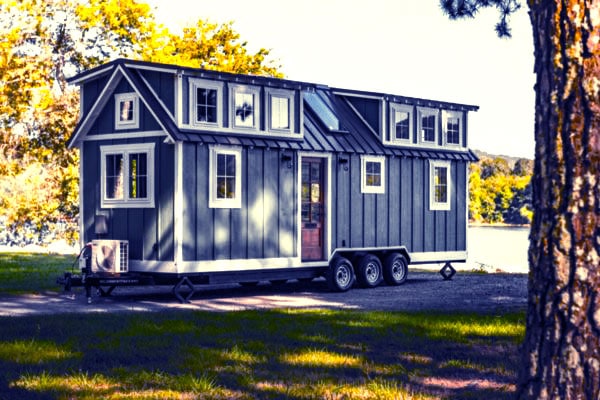 dormers weren't the norm. They came into vogue later on.
I wish I had dormers.
Not only do they add complexity to your roofline, but the extra space is nice. My bedroom is in the loft, and I started with a queen-size bed. (You can read about some of the challenges I've had with my loft here.) You could fit two people, but you couldn't sit up on the edges without hitting the roof.
I've since switched to an XL twin mattress. While there's more headroom, it's not ideal. I would rather have a queen mattress with dormers because there would be more light, more space, and it's more practical.
If you're considering dormers, check out these examples below. You'll see how it makes a world of difference in terms of bedroom space in your tiny house.
Murphy Beds Trundle Beds and Built-ins
Let's talk Murphy beds. For those unfamiliar, a Murphy bed is a bed that folds into the wall. Patented by William L. Murphy around 1900, these beds were made for small spaces (he lived in a New York apartment). You often see these beds featured in old movies, especially in the mid-century.
To be completely honest, I'm not a fan of the Murphy bed. I know that many tiny house dreamers like them in concept. I find that people don't actually fold them up every day. They end up being sloppy and take up space like a regular bed. For a guest bedroom, a Murphy bed might be a solution to create a multi-use space, but I don't find Murphy beds very practical for everyday use.
If you like the idea of Murphy beds, here are some working examples below. You'll see how the beds that convert to a working or sitting space are a little more likely to get tucked away when not used in these examples. With overnight guests, they could be a practical solution.
As for trundle beds, hideaway beds, pullout beds, and rollaway beds, they can be useful in the right circumstances. I've even seen ingenious "drawer beds" that tuck into the wall. Many of them fall into the same fate as Murphy beds, in that they seem practical until it's time to tuck them away, and then they become messy. However, these solutions can be useful for families with younger children, especially if they share a bedroom. The kids can use the bed for sleeping and then tuck it away later.
The other alternative bed I've seen used in tiny homes is a hammock.
While hammocks look Pinterest-worthy and seem fun, I would make EXTRA sure you're comfortable with sleeping in a hammock for the long term. Most people don't think they aren't practical bedroom solutions (but can be fun for kids and great for lounging around).
Tiny House Guest Beds
So what do you do for tiny house bedroom furniture when it comes to guests? An air mattress can be useful for guests that visit occasionally. I find it's common to think you need a guest bedroom for visitors (what I call an outlier activity).
To have a whole room dedicated to an outlier activity (think formal living room, dining room, home gym, and guest bedroom) isn't practical in a tiny house. In a small home, an outlier room requires tiny house furniture and space that you don't have to spare.
When I have guests, I spring for a hotel. Frankly, living in a tiny house means I save a lot of money in other ways. The money I would have spent on furnishing a guest room can afford basic accommodation for friends and family. It's nicer for everyone's space and sanity.
Tiny House Furniture: Lofts
There's a lot of overlap between tiny house bedroom furniture and tiny house lofts. The bedroom is almost always in the loft in a tiny house, and the loft is almost always a bedroom.
But it doesn't have to be that way.
A ground-floor bedroom with a loft lounge or storage can be practical. I've even seen a loft kitchen that changes up the "typical" idea of what can be done with a tiny house loft.
When considering what you want to do with a tiny house loft, look at the rest of your space's functionality. With a few chairs, pillows, and décor, your loft might become the best area for lounging, practicing your hobbies, or working. In these "alternative loft" examples, you can see how the right decorations make the space useful.
Tiny House Stairs and Ladders
One of the challenges and benefits of having a tiny house loft is the need for stairs or a ladder.
A lot of people prefer having stairs because they offer storage. That said, stairs take up a LOT of room, but you can find a way to rethink the usefulness of stairs and make them functional.
Tiny House Giant Journey has an example of creating storage and stairs in a unique way. Their tiny house furniture fits together to create the staircase but can be used for seating and storage.
I have a ladder in my house because it saves a lot of space. However, climbing up a ladder, year after year, can wear on you.
Tiny House Furniture: Bathrooms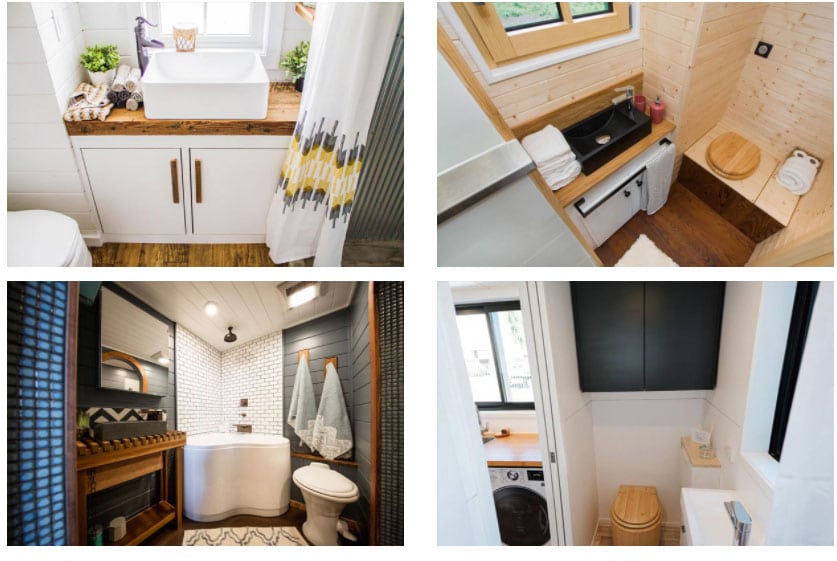 There's not a lot of free-standing furniture in the bathroom. Most pieces are built-in, like storage and cabinetry, in addition to the obvious plumbing.
So, how do you make a space that's functional, furnished, and still attractive (and hygienic)?
Laundry storage is one of those items that people often forget to plan in (like a kitchen trash can) and then later regret not having the right space to store.
Counter space is one aspect of a small bathroom that people think they can forgo (until they move in and realize that they need a workspace in the bathroom). Don't neglect storage in the bathroom. You'll need a spot for towels, spare toilet paper, and any products.
Shampoo, soap, and other toiletries can get in the way if you're in a very small spot. You will need a method of organizing them. Take the storage you think you'll need and then double it.
The most significant tiny house furniture needs in the bathroom are:
place for a hamper or laundry basket shelving
vanity space (used as a counter space)
Electric Radiant Floor Heat for a Tiny House Bathroom
If you are considering electric radiant floor heat, rejoice! You won't need any space to enjoy this even-heated comfort.
Remember, you are not laying radiant floor heat throughout the entire bathroom floorplan. Account for the fixed furniture that you are going to put in your bathroom and plan for radiant floor heat around those items (toilet, the shower, the cabinets). With that in mind, radiant floor heat for the bathroom is quite affordable in a small area, like a bathroom, in a tiny house.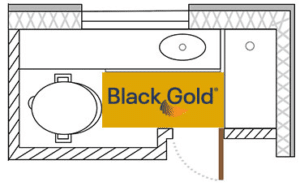 In this bathroom floorplan scenario, 1 sheet of Black Gold electric radiant floor heat film (20″W x 40″L) is used to heat the floor.
Contact Gold Heat to learn more.
Tiny House Furniture: Dining Area + Kitchen
Like the bathroom, the kitchen and dining areas of your tiny house will likely feature a lot of built-in pieces. Most of us don't have many free-standing pieces of furniture in those spaces, simply because it's not practical.
You will need a table of some sort and chairs for a dining space. Think about all of your furniture as multifunctional. (Like a table that doubles as a workspace).
Furnishing a Tiny House Dining Room
If you love the idea of throwing a dinner party, a tiny house is not a practical place to host large gatherings. This comes back to keeping "multi-functional" in mind when selecting a dining room product.
There are, however, practical yet interesting ways to create a dining space in a tiny house. The most common way is:
a fold-out "bar" or high-top table with bar stools or chairs that double as extra counter space too!
When looking for chairs and stools, seating is one piece of tiny house furniture where you can select a design that adds personality to your house. A simple, lightweight, and functional barstool is an excellent option, but if you plan to use the dining table as a workspace, you may want to explore chairs (or stools with comfortable back support).
The other dining room furniture option for your tiny house is a built-in breakfast nook-type space. These are often equipped with bench seats that can double as storage. You may find this helpful if your cupboard space is minimal. There are plenty of ways to make the dining area an attractive and functional part of your tiny home.
When furnishing a dining space for your tiny home, it also depends on your climate. I'm fortunate to be able to eat outside quite often at a picnic table. I enjoy dining outdoors.
On colder days and nights, I have a TV tray that I typically use as my table. For my lifestyle, that works just fine, but if you prefer sit-down meals, you may want to plan for a dining space.
Kitchen Furnishings For A Tiny House
So much of the kitchen consists of built-in pieces. It's splitting hairs whether it can even be referred to as furniture or if the kitchen furnishings are considered appliances.
Many questions come up around equipping tiny house kitchens because the sizing is a little different for appliances like stoves and fridges.
You'll want something small enough to work in your space, large enough to be useful. It's essential to explore tiny house kitchen ideas if you love to cook. Spend extra time planning to ensure you get the kitchen that you want.
As for actual tiny house furniture needed in the kitchen, there isn't much. IKEA has some free-standing furniture pieces that are nice for small kitchens.
Look for chopping blocks that tuck away and foldup islands and tables. The "drop leaf" design is often a preferred feature in tiny house kitchen furniture.
It's important to recognize what you're getting for the price and realize that there will be some assembly involved.
IKEA is based in Sweden. The Swedes are accustomed to living in smaller spaces. Ikea understands the furniture requirements in a tiny home. If selective and aware, you can find some nice tiny house furniture at IKEA, especially kitchen items.
The most useful furnishings in my tiny house kitchen are my sink with a built-in cutting board.
hanging storage baskets.
and a small space coffee maker.
Recommended Tiny House Furniture Sources
Where can you buy tiny house furniture? What are the best retailers?
There are specialty tiny house outfitters and tiny house builders who can help you with the built-in items for your tiny house. The built-ins are often part of the overall design and layout. As for free-standing furniture, these are the best places I've found that feature furniture that works well in small spaces.
IKEA
The Swedish furniture giant is a favorite source for tiny house furniture. Plan to build your own pieces, but many of the items have been designed specifically for small space living.
Benchmade Modern Furniture
Benchmade Modern is an excellent source for beautiful, custom couches made to fit your space. If you want a comfortable seating option, check them out.
Tochta
For custom-sized mattresses, Tochta is a great resource. The mattresses are high quality and can be created to fit a tiny house bedroom or loft.
Resource Furniture
Despite my mixed feelings about Murphy beds, multi-use furniture can be extremely useful in a small space. Resource Furniture makes beautiful pieces that fold out, drop-down, and tuck away.
Container Store
Tiny house living is all about staying organized, and the Container Store helps you do just that. They offer an array of items to organize and furnish any sized space.
If you're looking for tiny house furniture to compliment your built-in pieces, these spots should keep you covered. Remember that you can often afford higher quality items with a small space, so look for furniture that's durable, comfortable, and beautiful.
Recommended Tiny House heating system: electric radiant floor heat
Back in 2002, Ken Millard developed a method to design and manufacture a customized electric radiant heat mat for the RV industry. His system is now a feature in many Class A luxury coach models.
Now, 20 years later, in addition to serving the RV industry, Gold Heat introduces its award-winning, electric radiant floor heat product to the tiny house builder community.
It makes sense that Black Gold electric radiant floor heat film for a tiny house…their current customers take their lifestyle on the road, too. Gold Heat knows the importance of a radiant heat product that is designed to be a mobile application.
The Gold Heat electric radiant heat mat is designed and made in the United States. Electric radiant heat mats that are custom-designed, handcrafted, and supported from its headquarters outside Portland, Oregon.
Give Gold Heat your floor plan, and we will custom design a radiant heat mat that is an exact fit – even around the fixed furniture and toilets.
The company staffs an exceptionally knowledgeable team of radiant heat experts that provides tiny house and residential home builders, and RV / motorcoach manufacturers electric radiant floor heat mats with 1-step installation, diagnostics help, troubleshooting assistance, and reliable after-sales support.
Tiny House Builders…Contact Gold Heat for more information on layouts or pricing.
What do you think?
What is your must-have tiny house furniture piece?
Do you prefer built-in or free-standing furniture?